17th August 2014
Home Server Build Part 3 – The Context
---
Introduction
In parts one and two, we basically spec'd and built a basis for a Home Server. In reality, other than plans to use it as a Server, it is currently just a desktop PC with RAID SSD's and a lot of RAM. We have had the server up and running now for some weeks and it has performed flawlessly.
The 2 tests HDD's are running quiet and cool, thanks to the 120mm case fan blowing fresh air over them and they are delivering content on demand while storing all our critical information. But now, it's really time for the context of the build.
The Storage
We ordered and received the RAID Card, SAS to SATA cables and 6x4Tb Western Digital Red HDD's and set about installing the components but experienced a few issues, more on this later. For now it's really time for some decisions on configuration. The idea of 6x4Tb drives was always space, but with so many critical documents relating to business and backups, RAID 0 can't be my preferred option. We have been running RAID 0 on all machines built since 2002, but this has always been around performance for Operating Systems rather than resilience or integrity of data.
For that reason, we have always been aware of other RAID formats but never delved into them in any great detail. Along with other NASes and Servers we have been running a Synology DiskStation DS1512+ with good results and varying successes when striking a balance between file store and share, especially with DSM 5.0.
There are some questions that fall back to the reason for having this Server in the first place, will it need to be resilient or redundant?, yes, does it need to be fast?, yes, but not at the cost of data loss. There are 6 drives installed for the storage alone, and 2 SSD's in RAID 0 purely for the operating system which is probably overkill.
The storage array has been initially configured in RAID 0 with our data backed up elsewhere. This was purely a test set-up, of hardware and to understand the final maximum capacity we could achieve with six drives, 20.9Tb as it happens.
The intention all along however, was to go with a newer RAID format allowing maximum capacity and fault and data loss tolerance. This rules out RAID 1 or any mirroring type of RAID configuration as we would probably be left with 10 TB of storage and we were hoping and planning for more out of the six drives.
The main operating systems drives will be used for any "swap" or cloud services such as OneDrive or Google's Drive and they will more than likely be configured for performance, though watch this space. If anything can give an excellent trade-off between performance and data protection across 2 drives, we will use it.
After running some benchmarks purely on the RAID 0 six disc storage array (see below) it's time to start configuring the RAIDs and testing. We will take the RAID 0 as a complete test of speed and capacity but from now on in, it's all about tolerance, firstly however, a comment on the drives.
We received six 4Tb Western Digital Red drives for this build, this was despite initial releases having a high fault rate, it all started to look a bit better, six arrived, five worked! We RMA'd the drive and it was accepted as not working or DOA. A replacement was sent and is now working fine. We are impressed with these drives, they are quiet, cool and seem pretty fast for hard drives, maybe that's the RAID 0 set up at this point!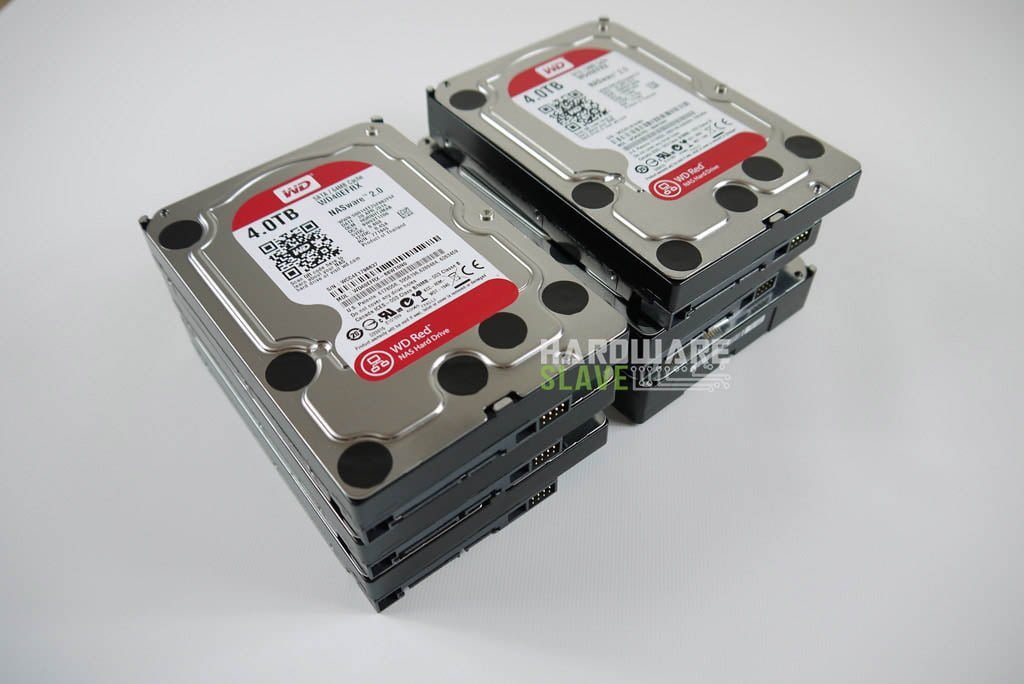 Would we recommend these drives? Yes, though it's the only component to have failed or arrived DOA on us in around 8 years.
So, the component list so far,
MSI Z87M-G43

Noctua NH-L12 Low Profile Cooler

16 GB Corsair DDR3 Desktop PC3-12800

Intel Core i3 4130, S1150, Haswell

Cooler Master Silencio RC-550 Mid Tower

500W be quiet! Straight Power

Blu-Ray Optical Drive (BH10LS30)

2 x 120 GB SSDs OS (SanDisk SSD SATA III 128GB)

Highpoint RocketRAID 2720SGL

6x Western Digital 4TB Red Drives

2xMOLEX to SATA adapters

2.5" to 5.25" SSD caddy
We have also used a fan power splitter that will allow for three chassis fans from one header. The Noctua NH-L12 has two fans and therefore consumes two of the three available. We also updated the MSI Z87M-G43 BIOS from 2.6 to 2.8 before our tests.