Corsair H110i GT AIO CPU Cooler Review
27th September 2015
Corsair H110i GT AIO CPU Cooler Review
---
Next, overclocking; We used the Asus Rampage V Extreme Motherboard 6 core overclock pre-set and manually set the DDR4 to 2666Mhz.
The Corsair H110i GT leads the class again, with load and idle temperatures under control and in a really comfortable zone of operation for all the computer components.
31 Degrees at idle for a 4.4Ghz overclock is truly superb, with 80 degrees under full stress test leading the class and beating all other contenders hands down, again.
This would give anyone the confidence to push their overclock further, and considering we are 1.1 Ghz over Intel's stock speeds, that's a lot of extra performance at some really cool temperatures.
Sound performance is where the Corsair H110i GT falls over though, and constantly too. Idle sound levels  are higher than the NZXT Kraken X61 under load conditions for example. In fact the idle sound performance is not far from all the contenders load performances. The Corsair H110i GT is getting a little loud, despite its absolutely superb cooling performance.
Load conditions is really where the Corsair H110i GT fails to make the shopping list. Topping out at a whopping 54.2 Db it was ultimately a detraction and very very loud during testing.
Conclusion
There you have it, another stellar temperature performing AIO product beating the rivals hands down, but surprisingly failing to impress due to its appalling sound performance. You can create custom performance profiles and manage the motherboard power settings but nothing we really did, other than to turn the fans right down in the Corsair Link software, helped the sound situation, but that'll hurt your temperature performance.
We also think you shouldn't be spending the money on this product to "try" and find out if it will work, that would be a waste of your time.
The biggest problem for the Corsair H110i GT is the NZXT Kraken X61. Maybe if we had of tested the Corsair first, we would have been impressed, albeit needing some earplugs, but the Kraken X61 was in our lab first, and set the bar for our AIO cooler expectation.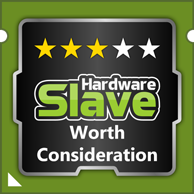 Also, the other air coolers managed a really respectable job here too, and the Noctua NH-D15 is a much better performer, for sound and temperature performances in our mind. The Corsair H110i GT is an excellent cooler, don't forget that it has won all the temperature tests hands down, but it is really let down by the sound performance, and we do not think you will be able to tolerate this, however much you try and forgive it.