19th June 2016
Cryorig H7 CPU Cooler Review
---
Overclocking next and we pushed the Intel i7-6700K to 4.4Ghz, which is a decent overclock for air cooling, without pushing it too much.
Overclocked temperature results or good for idle, but we would suggest the load performance is average to good for the H7.  The other coolers are really out performing the H7, rather than it being a bad cooler when overclocked. Overclocked sound performance is much better, pointing to the default PWM QFan Control that could use a little optimisation, though only to reduce the temperatures mainly. We'll stick with the default settings, we could spend hours optimising every test but you may never reproduce the results.
Conclusion
Again, another Cryorig product that has a lot of high end features and a little character to it as well, but here is the main thing. The Cryorig H7 is under $40, and that's astonishing. The other coolers tested there, the Gelid Solutions Antarctica and the Reeven Steropes RC-1206b are very good little coolers but you will need to dig a little deeper to pick one of them up for your new mATX system.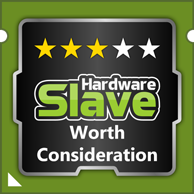 If you have a limited budget and want a feature rich CPU cooler that will cooler your CPU very well, then this could be the one for you. It's a little on the unrefined side though, but that's where you come in. A little lap of the CPU base plate and a few tweaks of the fan profile and we think you will have a really good cooler you can punish with some decent overclocking.
Out of the box it does well, it is like a big Cryorig cooler that has been shrunk down, including the price. The extra design put into the mounting helps and the QF120 Balance fans are part of a range, so you can even change or add fans according to your preference. Overall, for the money it's excellent, but against the competition in this review, it shines sometimes and the rest of the time it's on par. As we said at the beginning, coolers such as the Cryorig H7 are aimed at getting the best cooling performance out of a compromise, either in airflow, space compatibility or both. The Cryorig H7 just about does that, a little bit of modding and for the money, it is something worth a look.