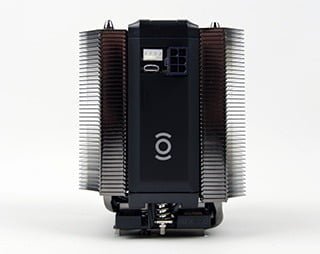 Phononic HEX 2.0 Thermoelectric CPU Cooler Review
Introduction
You have probably seen some of the news around the internet about the Phononic HEX 2.0 CPU cooler. We spotted it a while ago and from a cooler point of view at least, this really did spark our interest. We were lucky enough to catch up with some of the guys at Phononic and they sent us over a sample to test. We are familiar with the background technology; Peltier extreme CPU coolers have been dabbled in for some time. In the past they generally were for the extreme overclockers, before things like dry ice cooling pushed Peltier into obscurity. It was also a cumbersome technology, not to say that dry ice wasn't, but it always seems like an expensive compromise and only for the dedicated few.
Fast forward to 2016 and Phononic have given the Peltier effect thermoelectric technology another go, but this time with a lot of time and energy put into the application and management of the thermoelectric elements. Phononic founded in 2009 and specialize in high-performance thermoelectric products just like the HEX 2.0. Phononic have come a long way in only a handful of years and with the release of a consumer grade thermoelectric CPU cooler, or TEC for short, it's time to see if there's any millage in the technology and brand.
Specifications
Model Number
Hex 2.0
Socket compatibility
Intel Socket LGA115x, LGA2011 / 2011-v3
AMD Socket AM2/+, AM3+
Dimension ( with fan )
125 x 112 x 95 mm (H x W x D)
Weight ( with fan )
810g
Baseplate Material
RoHS compliant
Heat pipes
4
Fan
Sanyo San Ace 92 (9S0912P4F011)
Fan Dimension
92 x 92 x 25 mm (H x W x D)
Fan Rated Speed
Idle: 1000rpm - Max: 2650rpm (PWM-controlled)
Fan Noise Level
7dBA ~ 33.0 dBA
Fan Air Flow
44 CFM Maximum
Fan Air Pressure
3.1 mm H2O
Software
HEX 2.0 APP (Downloadable)
Thermoelectric elements aside, the HEX 2.0 is a standard CPU tower cooler. The HEX 2.0 is a slightly smaller CPU tower cooler and is described by Phononic as a Small Form Factor CPU cooler. It's going to be partially aimed at the user with slightly less internal chassis space, either by design or some sort of system or chassis restriction. 
The included fan is pre-installed and is a slightly smaller fan at 92mm rather than the 120mm size fan we would usually see average coolers. With that said, Phononic describe it as swappable and although you can't go large with the fan size, Phononic expect some users to use their own preferred fan.
Socket compatibility is also slightly down on older generations of CPU coolers with no LGA 1366/775 support. We do see this as a good thing however, though socket compatibility is a good feature normally, it can lead to higher costs and more material usage during manufacturing and in the end product.