Introduction
DDR4 has been with us for some time now and manufacturers are starting to produce mainstream and branded products. With only one chipset supporting DDR4, the Intel X99, it is still an exclusive market for DDR4, but that should all change soon.
In the meantime, if you have an X99 motherboard your choices are expanding for DDR4. The big guns are now in full swing for DDR4 production and if that's your cup of beer then read on. Today we have the Crucial Ballistix Sport DDR4 2400Mhz 16Gb kit for review. It comes in four DIMMs and is a low profile, or normal profile as we like to think, configuration.
Crucial are calling this memory "Performance memory for everyone" though it does look to be aimed at the gamer and performance enthusiast, mainstream users with the appropriate chipset will also enjoy the fun.
Technology
Launched in September 2012, DDR4 offers a higher module density over DDR3 and at a lower voltage. This means larger and cooler DIMMs giving the highest module size to date. DDR4 also promises higher speeds than ever before probably maxxing out in the 3500/4000Mhz area, almost a 1:1 relationship with the CPU.
Capacity 16GB kit (4GBx4)
Specs DDR4 PC4-19200 • 16-16-16
Unbuffered
NON-ECC
DDR4-2400
512Meg x 64
Voltage 1.2V
Crucial describe this memory kit as;
Performance memory for everyone
Serious gamers are serious about our award-winning Ballistix and Ballistix Tracer products. At Crucial, we engineer these products to deliver the fastest, most reliable memory for gaming and performance enthusiasts.
But why should the most hardcore gamers have all of the fun?
If you're new to performance memory and like what Ballistix has to offer, the Crucial Ballistix Sport Series is a great place to start. This line was created for mainstream users and general enthusiasts. They feature heat spreaders for thermal performance — along with standard timings and voltages, making this reliable, quality module ideal for maximum stability and compatibility.
Crucial will also be offering Crucial Ballistix Sport LT DDR4 memory, this will be available in Q1 and extends the Ballistix Sport line of memory further. Crucial are going all in with DDR4, they have the clout to as well. The have an impressive line up, so let's see if their Ballistix Sport DDR4 Memory is any good.
Product Shots
Packaging is simple and clean, and standard for memory these days. It gives you a chance to see the lovely DDR4 modules before you buy, a nice showcase.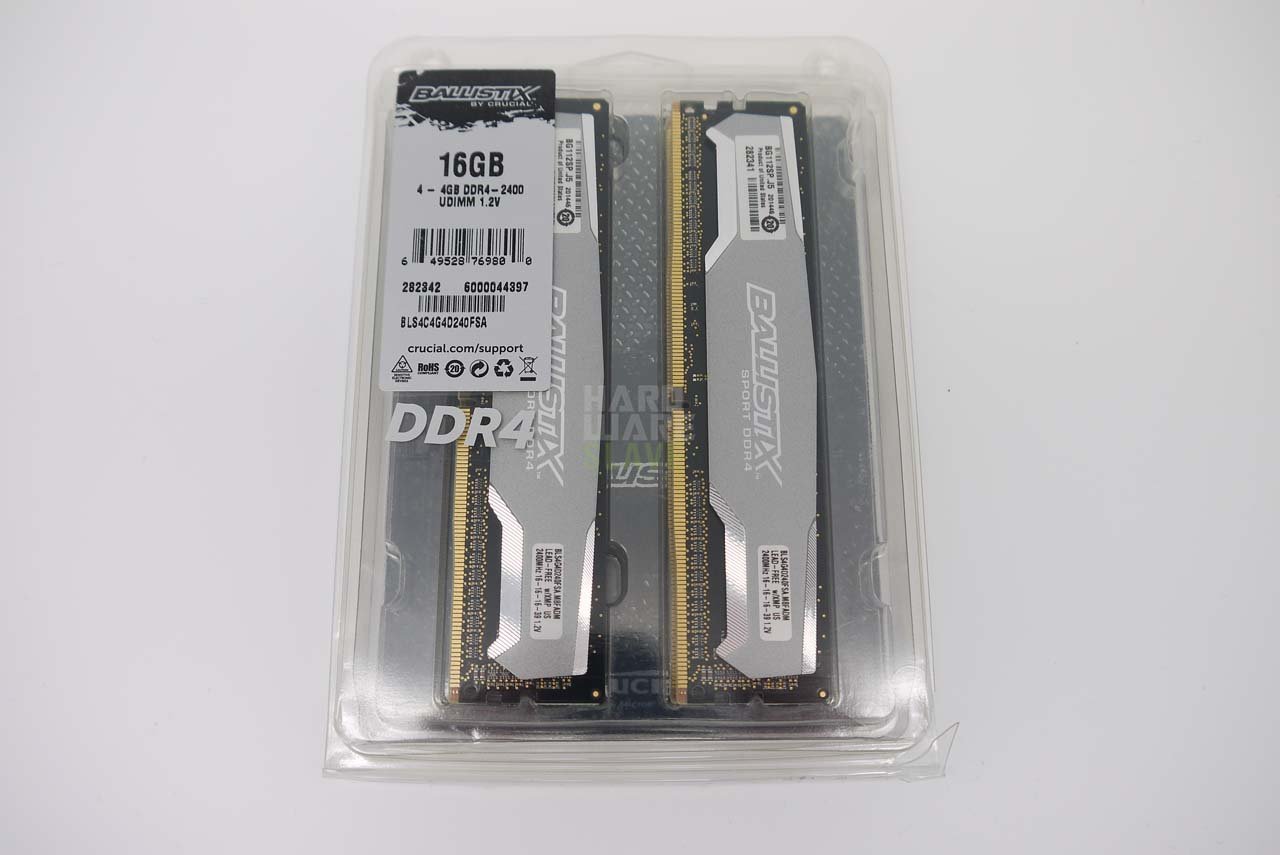 4x4Gb DIMM making this a 16Gb kit of DDR4.
We think this is pretty nice looking RAM, black PCB's and silver detail, we have already forgotten about the old fashion green PCB's!
Crucial Ballistix Sport DDR4 2400Mhz Memory Review
Package - 8
Performance - 9.5
Price - 9
Consumer Experience - 9.5
9
We have had this memory on the test bench for some time. We have had no issues with it, it passed all tests, we had no BSODs and memcheck had no issues. The packaging didn't completely impress us initially, but the more we handled it, the more we could see the concept. We loved the modules, the colour scheme, silver with a black PCB, and the subtle but clear etching and fins, gave an air of understated quality. They also didn't look out of place in our Asus Rampage V Extreme Motherboard, albeit a slight clash in colour scheme.