---
Phanteks releases Enthoo Evolv ATX Galaxy Silver Chassis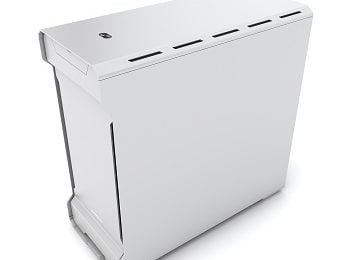 Walnut, California, November 13th, 2015 – Phanteks' Enthoo Evolv ATX has gained popularity in the watercooling community with it's innovative design and expansion flexibilities. Today, Phanteks is proud to announce the availability of a new color addition to the Enthoo Evolv ATX, the Galaxy Silver.
Like the EVOLV, the EVOLV ATX retains the full 3mm thick aluminum outer panels with the quick release system. The EVOLV ATX features a 4 color changeable power LED.
With the EVOLV series ranging from mini ITX to micro ATX, the EVOLV ATX will feature a large interior to support full ATX. A innovative top radiator bracket to allow easy installation of the radiator and/or fans. The EVOLV ATX now comes with the all new HDD mounting system and includes 3x
modular HDD bracket (PH-HDDKT_02).
The EVOLV ATX is designed with watercooling in mind. Multiple reservoir and pump mounting locations, as well as storage capacity, the Enthoo EVOLV ATX will satisfy any pc builder looking for a design that doesn't sacrifice features. "Features such as being very versatile, having a spacious and clean interior and of course making it very easy to build watercooling systems is what the Enthoo Series is all about." – Boon Tuoh Khor