Introduction
Phanteks are probably more known for their PC chassis than for anything else, including their coolers. Phanteks have an extensive range of chassis and accessories for their chassis including a range of fans. The Phanteks Evolv is probably one of the most recognized chassis out there, and still gets a lot of coverage.
If you look at the Phanteks site, they do have a range of CPU coolers, enough of them to get any system builder going. Phanteks have sent us the PH-TC12LS low profile CPU cooler and the tower Phanteks PH-TC14S CPU cooler.
Today we are going to look at the PH-TC12LS low profile CPU cooler, we'll review the PH-TC14S shortly. The PH-TC12LS low profile CPU cooler is designed for HTPC systems for both Intel and AMD CPUs. Phanteks also include the PH-F120MP fan on the PH-TC12LS, a 120mm high static pressure with their Maelström concept technology. So it's all a good start from Phanteks, so let's test it.
Specification
Model Number
PH-TC12LS
Socket compatibility
Intel Socket LGA 2011/115X/1366/775
AMD FM1/FM2/AM3+/AM3/AM2+/AM2 (stock back-plate required)
Dimension ( with fan )
(L)120mm x (W)120mm x (H)75mm (with fan)
Weight ( with fan )
500g
Baseplate Material
Copper (Base and Heat-pipes), Nickel Plated
Fin Material
Aluminum Cooling Fins with patented P.A.T.S.
Heat pipes
6x 6 mm C-type
Fan
PH-F120MP
Fan Dimension
120 x 120 x 25mm
Fan Rated Speed
500-1800 ± 250 rpm
Fan Noise Level
12.5 ~ 30.7 dBA
Fan Air Flow
53.3 CFM
Fan Air Pressure
1.72 mm H2O
Product Gallery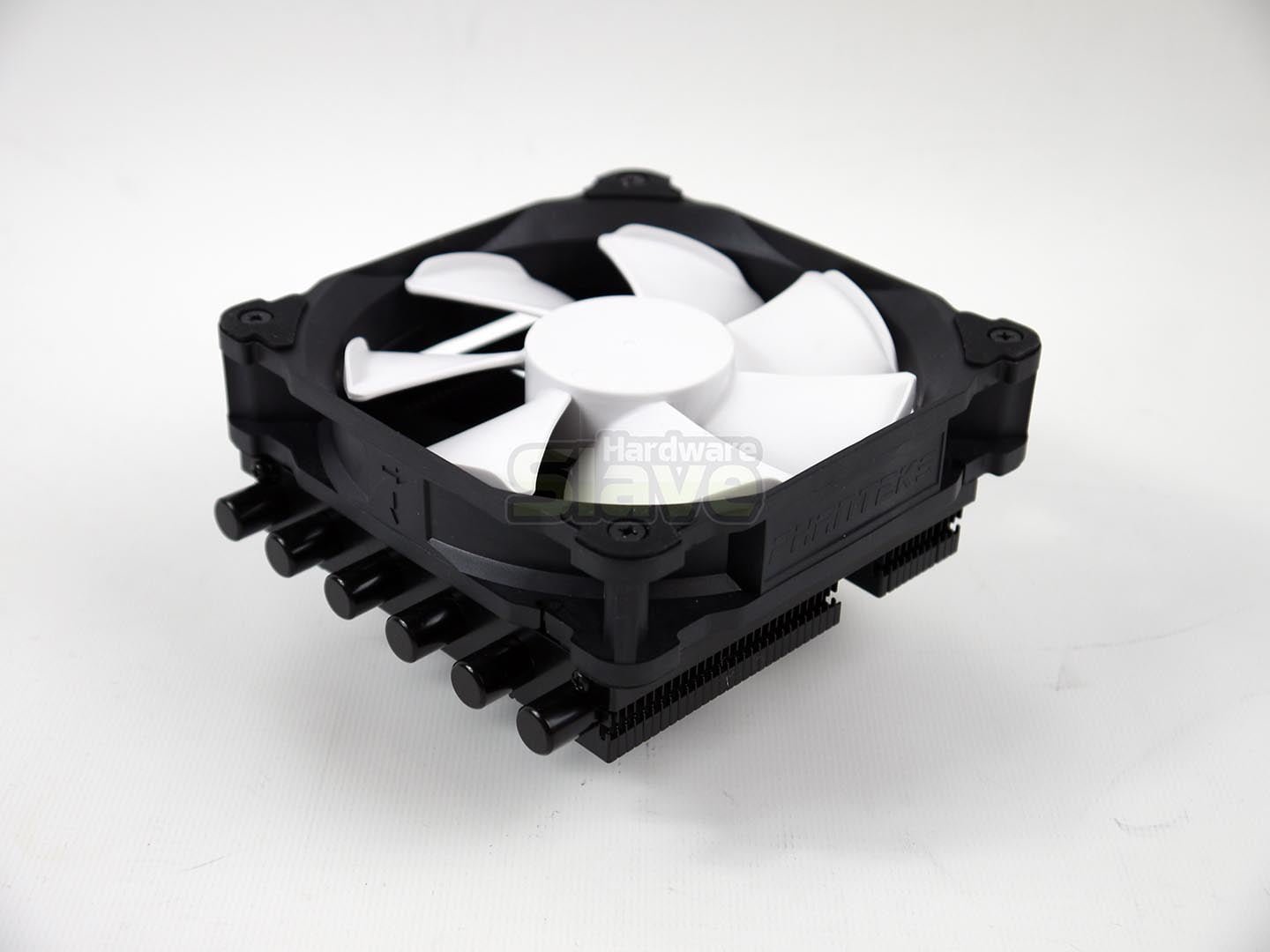 The Phanteks PH-TC12LS is a very clean and good-looking CPU cooler. Phanteks' new PH-F120MP fan is, as you would expect, a PWM fan. The fan is a brushless DC motor type with rubber mount points for vibration isolation. The fan blades have what could only be described as aircraft winglet and the whole package fits together very well. The heatsink fins are coated with P.A.T.S (Physical Antioxidant Thermal Spraying) and looks good and feels very different to handle compared to the unpainted CPU coolers. Overall, it's well thought out, put together and finished.
Phanteks PH-TC12LS CPU Cooler Review
Package - 8
Performance - 8
Price - 8.2
Consumer Experience - 7.5
7.9
As a standard CPU cooler the Phanteks PH-TC12LS is a good stock replacement from a performance standpoint. For looks alone, it's a very minimal design, but it's all well thought out and presented. We had no mounting issues, though it's going to clash with memory that has tall heat spreaders installed. As a low profile cooler it works really well. Any HTPC that has a mid-range and higher CPU will benefit from having this cooler installed.