Today I'm going to write about the latest product from takeMS – MediaStation easy. Lately we had the opportunity to write about products from IT components market (like USB drives, storage, memory and graphic cards). This is our first article in home entertainment category so we have the opportunity to test takeMS solution for home media player.
MediaStation easy is the first product from takeMS in this category, although I've seen prototypes of this product at CeBIT 2009. It seems that this product is the first one of many to come from takeMS in home entertainment category.
O.K. then after such long introduction, let's start to write about this MediaStation. I just wanted to add that this is my first article that I'm writing about some home entertainment device, and I'm very much excited about this.
You can see from the pictures about the official specifications of this device link
Plays all common standard definition video files Container: AVI, VOB, MPG, DAT, MP4 / Codec: MPEG-1, MPEG-2, MPEG-4 ASP, XviD

Plays MP3 and WMA audio files (no DRM support)

Playback of JPG / JPEG picture files as slideshow with background music

USB 2.0 connector for external HDD and USB flash drives

Card reader for SDHC, MMC and MS memory card

Readable filesystems: FAT, FAT32, NTFS

Supports all common subtitle formats

HDMI connector for easy connection with your new flatscreen TV

SCART compatible AV output for older TV systems (composite video)

IR remote control

Measurements: 19mm x 76mm x 79mm (HxWxD) Weight: 108g

Content of package: takeMS MediaStation easy, AV output cable, remote control, printed manual (GER / EN), AC/DC adapter, CD with digital manuals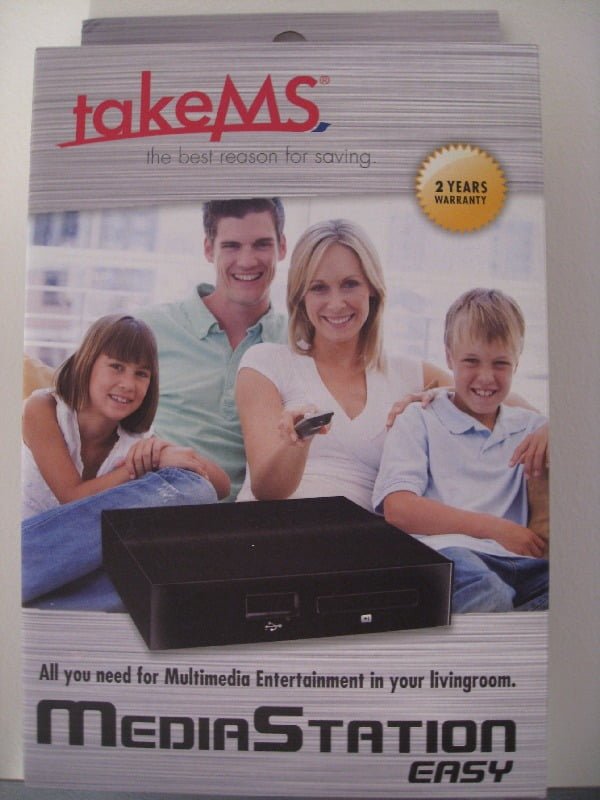 The MediaStation is packed in carton box with most of the important product specifications (which are multilanguage) are written on the backside of this package. The package contains: media player, A/V cable, remote controller, AC/DC adapter, printed user manual and the last item is mini CD which contains multi language manuals.
takeMS MediaStation Review
Package - 8.9
Performance - 9
Price - 9
Consumer Experience - 9
9
With the price around 40 Euros, I think it cannot be better then this. In the future things will only be better, since takeMS is working on MediaStation with HD support, so you can play High-Definition movies and other multimedia containers (like Matroska) on this new device. Not to mention LAN support and several other things. I can only say that I cannot wait for this new product to be introduced to the market.