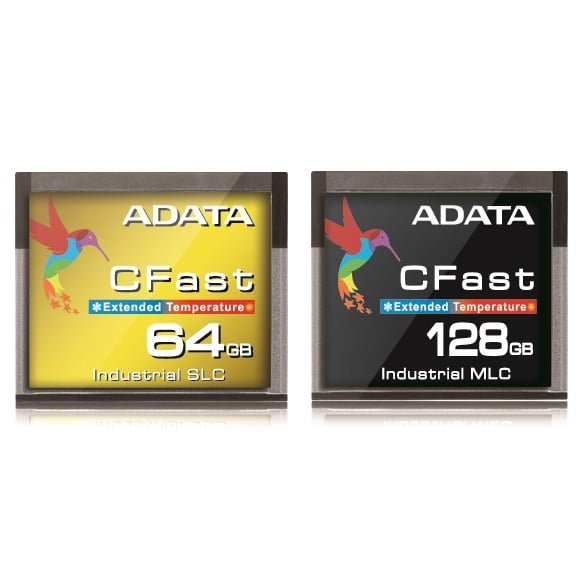 ADATA Launches Industrial CFast 2.0 Memory Card
ADATA® Technology, a leading manufacturer of high-performance DRAM modules and NAND Flash application products, today launches the industrial CFast card – ISC3E, which combines the form-factor of a CF card with the high-speed SATA interface for both high reliability and secure operation, widening the application of industrial equipment.
Extremely Durable
ADATA's ISC3E CFast is compatible with CFast 2.0 and SATA 3.1. The sequential read/write speed is up to 435/120 MB/s (MLC) and 165/170 MB/s (SLC). It is highly shock and vibration resistant, withstand extreme temperatures from -40 ºC to +85 ºC, and the MTBF is up to 2 million hours. With the features above, the ISC3E CFast is quite ideal for those industrial systems which require long-term operation. Additionally, the ISC3E operates at a low 3.3 volts, and supports DVESLP (Device Sleep) to save more power and prolongs the operation time.
Ease of Use
The ISC3E CFast includes SLC 4GB~64GB and MLC 4GB~128GB in capacity, which is suitable for networking, industrial computers, medical application, POS, Kiosks, gambling and lottery machines. Utilizing an industry-standard SATA interface and connector, the ISC3E CFast Card can be easily integrated into a host system without any special BIOS modifications or additional device drivers.
Reliability Meets Security
The ISC3E features a full range of technology, including ECC (Error Code Correction) and S.M.A.R.T for high reliability of data transfer and security. It also supports the Wear-Leveling technology, which prolongs its lifespan.