14th March 2009
Corsair at Cebit 2009
---
As I've told before to make my CeBIT report, my promise I'm finally going to fulfill. I hope that a few late night hours will be enough for me to accomplish this. This year I told myself that I'll try to visit whatever I find the most interesting. I'm not even going to try visiting all of the halls. There are 30 of them, and last year I've visited around 13-15 of them – my legs were dying on me. This year I've visited only 5-6 halls, but this time I've managed to plan my time more efficiently.
I arrived in Hannover Germany on the 2nd of March. Firstly I went to central station (Hauptbahnhof) to grab something to eat… and to take some pictures! Nothing special, the pictures were taken on all four sides at the central station. I entered CeBIT finally and I was a bit shocked with current situation. I thought that all of the booths are completed and that people are just decorating their booths for tomorrow exhibition. I can't tell you how much I was wrong! Picture speaks more than 1000 words, so if you look at the picture:
It was REALLY messy inside and hard to walk around. Some people had not even started to unpack. CeBIT 2009 will open in less than one day, so I assume that some of those people wont be getting any sleep in order to prepare their booth for tomorrow. The most dreadful experience here was the fact that forklift trucks were just 'flying' from one end of the hall to another. I've survived this… and told myself that it's enough for one day. I'm going to my apartment, rest and prepare for tomorrow's hard day.
On the 3rd of March the CeBIT has officially started and it's opened to all of the visitors. Unlike yesterday there were lots of people going inside Messe (several people are exhibitors) but also impatient visitors like myself who are trying to be the first ones on CeBIT booths.
I was near the entrance when I took the pictures but on the second picture I got someone's elbow in my ribs. So I gave up on further photographs. You'll just have to trust me when I say it was very crowded around 9 AM.
For this reason I couldn't meet with all of the people that I'd planned too as most of them had full schedules weeks before CeBIT. So I'm still happy and fortunate to have spoken with the same people I did last year.
This is my first article on my trip to CeBIT. So to start the story off I will introduce a company well known for its memory modules and lately it has started to produce high quality and efficient power supplies. I'm thinking of a company with 3 sails on the logo – Corsair of course! But on this year CeBIT they had some hidden cards in their sleeve. Read the rest of the article and find out.
I had the lucky chance to speak with Mr. Philips from Corsair who is in charge of Central/East Europe. He was so nice and pleasant to talk with, it was just a joyful experience to hear him presenting the new products. You can see DDR3 memory modules at 2400 MHz, which should would great with the Intel's new Core i7 products.
I have found out that Mr. Philips is one of the experts in this business as not many people can describe every detail about their product portfolio with memory labels, part numbers, overclockability, SPD timings, voltages and memory frequency right from their head.
Here are some of the Corsair products, XMS3 and XMS series of modules.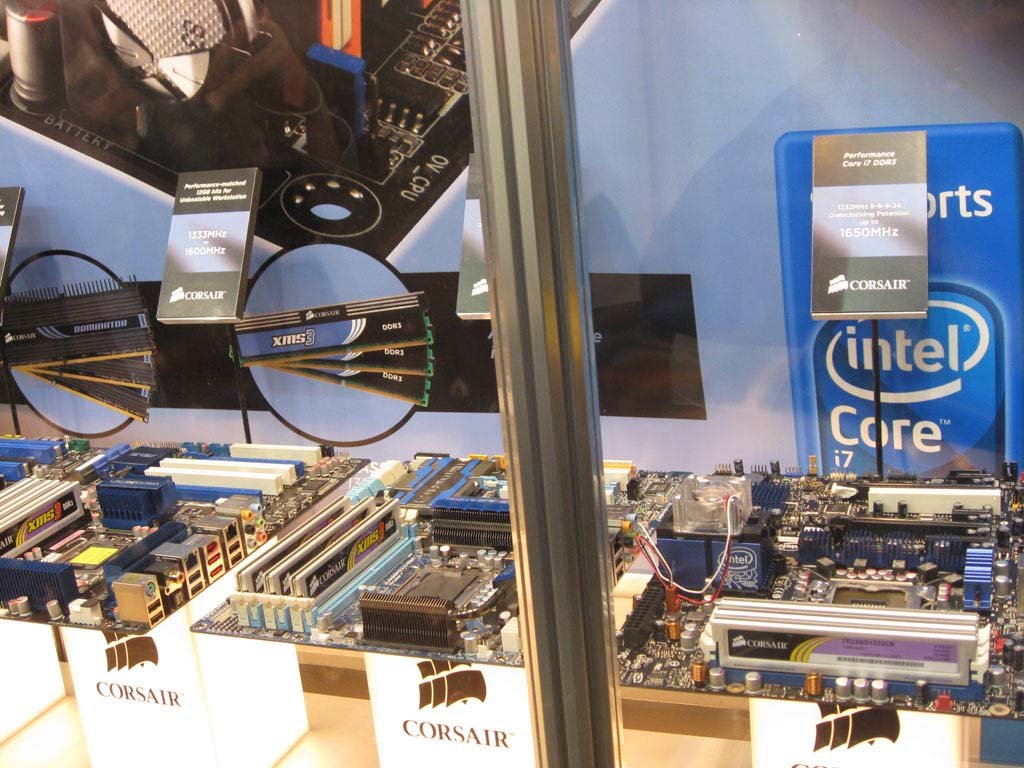 Now comes the fun part! Mr. Philips has shown to me the latest innovation from Corsair – a new computer case!
It's their very first case. But from what I saw at their booth it has great features and innovations that I have never seen on other cases. Front of this case is made of aluminium. At the bottom of this case there's a separate chamber for the PSU.
It's common to see this in newer cases these days. Next to it there are two air intakes one for the motherboard and other one for the chamber where there are hard drives. If you look from the interior at these disc connectors, you can see that they are hot-swappable.
It's so easy to work with them, and disc upgrade or installation/removal of them has never been easier.
What has impressed me the most is the inside of this case. You can easily tie up any sort of cables here, and the rubber parts can be easily used to sort out the cables inside this case. So simple yet so effective. The best part of this whole computer case is the hole in the upper right corner of this case.
Replacing the CPU cooler can has never been easier inside this case!! Just remove both side panels of this case, and without a need to remove the motherboard you can easily remove the old and install the new CPU cooler. I was speechless when I saw this! I remember the time when I lost hours trying to mount my Zalman cooler onto my motherboard.
Way to go Corsair! And keep up the good work. Mr. Philips also told me that they are building also some other models. Can't wait to see them.
Their PSU line-up you already know from before…
On the rest of the pictures you can see modern age PC's with power hungry graphic cards inside them. But the 850w and 1000w Corsair PSU's are doing their job efficiently.
One last thing that could you could see on Corsair booth are Dominator-GT modules which are connected to water-cooling system. As you can see on LED display their temperature is around 18 degrees!! I consider this to be great success for Corsair when they've managed to produce powerful memory modules that can be cooled efficiently. And the whole setup was very much quiet.
That's it from Corsair.