30th March 2009
takeMS at CeBIT 2009
---
Now we come to one of the longest and most supportive sponsor of hardwareslave.com. Our long term co-operative has been nothing less the successful over the last few years – it's of course takeMS! What's also worth mentioning that it's the only company from this CeBIT 2009 report that has headquarters in Germany.
Marina has some time to give me a product tour over their booth, and to introduce some of new products. We'll start off with memory modules of various types, sizes, capacities, passive coolers and packaging. Notice the dual-channel and also Core i7 triple channel memory kits!
Next up we have in the upper shelf Mem.line series of hard drives in 2.5″ and 3.5″ size and packed in USB cases. 3.5″ drives even have E-sata connector so it's easy to connect them to high performance port and utilize the full capacity of the E-sata interface. In the middle and lower shelf there are USB drives of various sizes, colors and each of the is targeted for different market group.
Notice in the middle shelf two of the new products, Mem-drive Diamond and Mem-drive Chrome – each of the targeted for people with a sense of fashion and style. And I haven't found myself there, since I look like a plain-old IT geek living in it own world and imagination :-)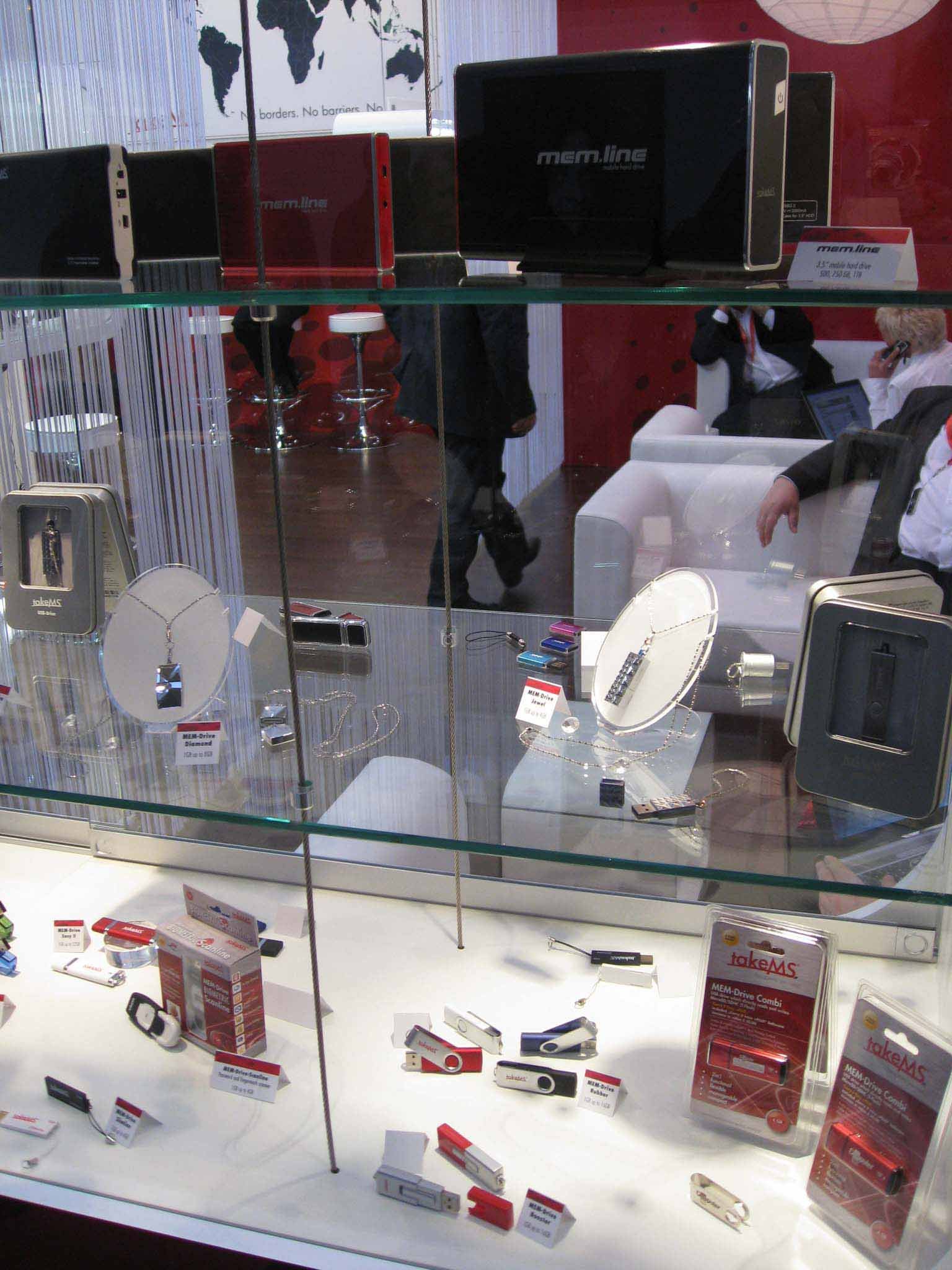 Now we come to takeMS new product that almost  surprised me the most (but it wasn't as shocking as what I saw at the end of this takeMS CeBIT report). takeMS has produced 2.5″ SSD drives in 32, 64 and 128 Gb! What's great to see is regular SATA II port for connection with the computer, but also mini-USB connector; so this drive will be able to connect to any USB port with only a single cable! Great job once again at takeMS, and can't wait to see some performance read/write benchmarks on these drives.