Asus Rampage V Extreme Motherboard Review
11th January 2015
Asus Rampage V Extreme Motherboard Review
---
Introduction
With the advent of the X99 Chipset from Intel, a bunch of new motherboards are needed to support this. Intel also released a revised Intel i7 CPUs to support this. Not only that but with the chipset and CPU releases, a new CPU socket was released at the same time; the LGA 2011-v3. While most manufacturers have the elite line of high kit, there is probably no better known range than the Rampage series. The LGA 2011-v3 socket and X99 chipset release means you need to buy a new CPU, your old X79 CPUs will not fit, and not only that, you will need some DDR4 memory. You may be reading this for a lot of reasons, one may be about parting with your cash for a top of the line CPU, memory and motherboard. The Asus Rampage V Extreme is the top of the range at this time, and should be a consideration on anyone's wish list for that full ATX SLI or Crossfire mother of all rigs.
We have had this motherboard in our lab for about 6 weeks now and we have been using it and testing for most of that time. When it arrived we were bowled over by its presence. This is a serious bit of kit, even before you install it. If you part with your hard-earned cash you won't be disappointed when it lands on your doormat. Let's find out if you will still be impressed when you install it.
We intend this to be the main review, but part one of a couple of different articles, with overclocking and other features to come.
Technology
CPU Socket
We have only seen ASUS design a custom a LGA2011-v3 socket known as 'OC Socket'. The LGA2011-v3 with the OC socket isn't unique to the Rampage, it seems ASUS have spent some time on this and are releasing it with their X99 motherboard range.
Asus engineers have examined the specifications of the X99 and LGA2011-v3 and believe they have found a way to get their customers an edge over other manufacturers.
If this is the case then Asus have pretty much caught their competition with their proverbial pants down. It is also a little unexpected, usually there is no real bandwidth in reference designs, it is  more about what you can add-on; on-board sound, RAID chips and so on. It may be the case that if you have this motherboard then you have automatic bragging rights over anyone who doesn't.
DDR4
It has been promised for around a year now but now it is here, DDR4. DDR4 brings higher module density and lower voltage requirements, and higher data rate transfer speeds.
DDR4 operates at a voltage of 1.2V with frequency from 1600 up to 3200 MHz, and probably higher when the technology beds in. It is physically different to DDR3 so it means another purchase before you can use your X99 rig, though the cooler should be transferable.
X99 Chipset
If you recall there was some doubt around the next high end Intel chipset and we had a LGA2011 socket already so there was lots of speculation around the next release. It is a little unusual to revise a CPU socket, but the rest of the chipset seems a logical evolution from the X79.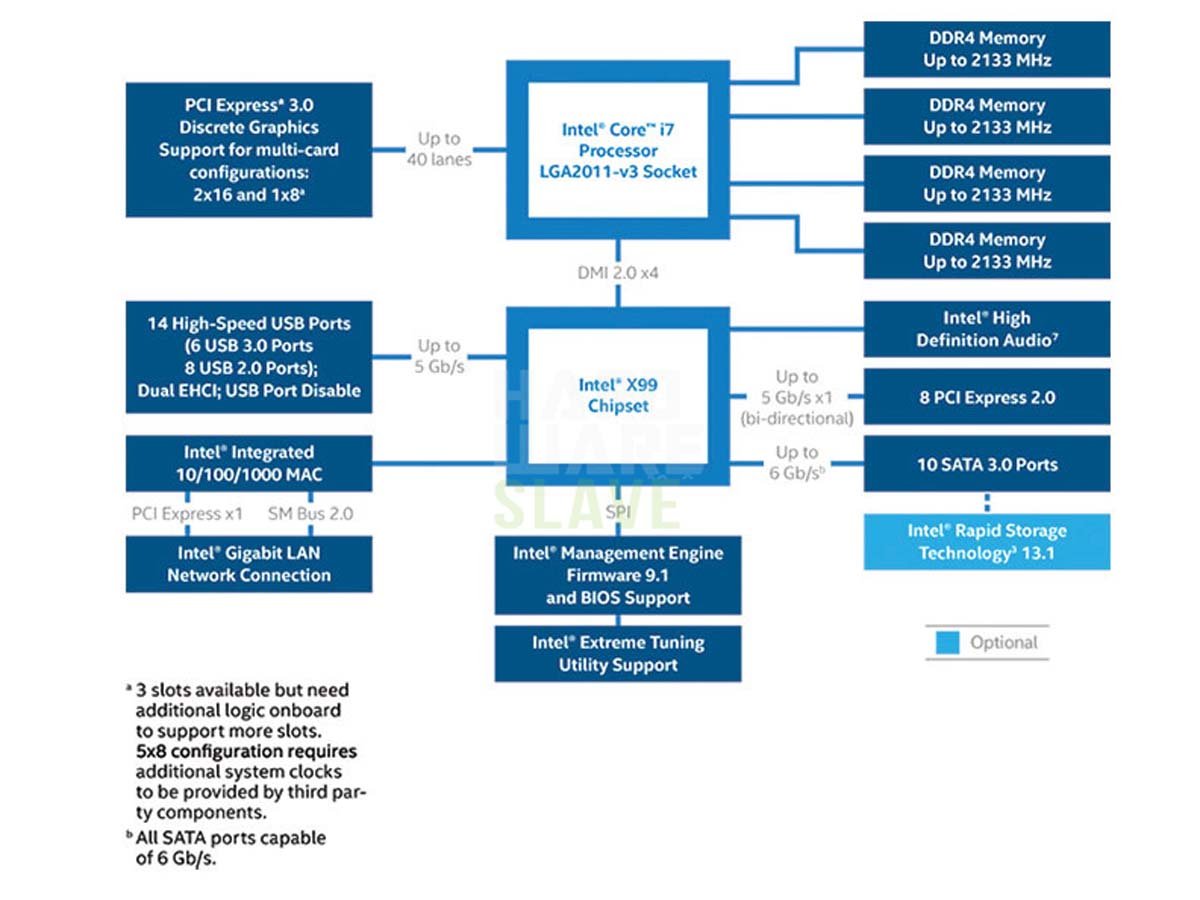 Intel describe the X99 chipset as the following –
The new Intel® Core™ i7 processor and Intel® X99 Chipset create the ultimate desktop PC platform for extreme gamers, enthusiasts, and content creators. This new platform is equipped with features that maximize the capabilities and performance within the gaming, overclocking, and digital content creation space.
With the X99 as a framework, Asus developed the Rampage V and it seems thrown everything at it;
Intel® Core™ i7 processors on LGA 2011-v3 socket

Intel X99 Express chipset

OC Socket, OC Panel, Safe Boot and ReTry buttons – Powerful tuning kit for breaking records

Extreme Engine Digi+ IV – Primo components for rock-steady power

DirectCU, X-Socket II, multiple thermal sensors and Fan Xpert 3 – Stay even cooler

PCI Express 3.0 x4 M.2, dual SATA Express, 3T3R 802.11ac Wi-Fi – Unparalleled connectivity with blistering-fast transfer speeds

SupremeFX 2014, Sonic Radar II, Intel Ethernet, LANGuard, GameFirst III, KeyBot, RAMDisk – Hear more, banish lag, accelerate loading and control
There are so many features it is probably best to have a look at the Asus website.