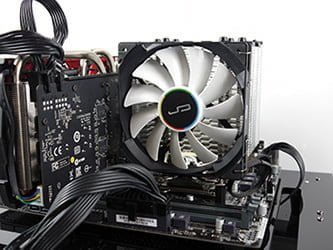 Cryorig H7 CPU Cooler Review
Introduction
Something a little more sane now than all the Nvidia GTX 1080 and AMD RX 480 noise and hype, and we genuinely mean little. We have tested a lot of flagship or large size CPU coolers but every so often we get a cooler that is designed and aimed for the low to mid-range of CPU's and motherboards. This doesn't mean a reduction in quality or performance, at least it shouldn't, but a more focused and compatible cooler for the mid-range specialist that wants something a little special without breaking the bank.
We have tested a good range of Cryorig products and the hype seems to ring true with them, rather than being just more propaganda that lets everyone down once the item is installed. In fact, the opposite is true, we are always eager to review these products, they haven't let us down and they seem to have a genuine enthusiasts drive and an eye for quality and usable features.
If you have ever wondered about their intent, go to their website and have a look around, you will not be disappointed. In this review we will be looking at the relative performance of the Cryorig H7 CPU Cooler, a cooler that Cryorig taglines as Highly Efficient Hive Fin, The Ultra Compatible and Single Tower Cooler. So in three phrases Cryorig is pretty much stating its intent, good cooling, small and compatible.
What are these coolers for though, can't we just install a Cryorig R1 Ultimate CPU Cooler? Well no, if you are here reading this and wonder why you would upgrade from the stock cooler, or why you shouldn't just go for the flagship cooler, you need to remember that it's always a compromise between airflow and space compatibility. Coolers such as the Cryorig H7 are aimed at getting the best cooling performance out of a compromise, either in airflow, space compatibility or both.
The Cryorig H7 CPU Cooler should provide maximum cooling power for the smaller and more compact platform, let's see if it does.
Specification
Socket compatibility
Intel LGA1156, LGA1155, LGA1151, LGA1150
AMD AM2/+, AM3/+, FM1, FM2/+
Dimension (with fan)
L98 mm x W123 mm x H145 mm
Weight (with fan)
711 g
Heat pipes
6mm heatpipe x 3 units
Copper Base
C1100 Pure copper nickel plated
RAM Height Limit
Limitless
TDP
140 W
Fan
QF120
Fan Dimension
L120 mm x W120 mm x H25.4 mm
Fan Rated Speed
330 ~ 1600 RPM ±10 %
Fan Noise Level
10 ~ 25 dBA
Fan Air Flow
49 CFM
Fan Air Pressure
1.65 mmH2O
Product Shots
Cryorig's H7 packaging is in line with the rest of their range, and to be honest, that's a good thing. Cryorig rival flagship companies such as Noctua for the quality and the amount of thought that they put into their branding, detail and packaging.